Security and storm shutters are an easy and convenient way to protect your home or business. Beach Glass Design provides hurricane rolling shutters designs and installation that suits your home perfectly and protects you from the most hazardous weather. Our exterior window shutters have endured many weather extremes including Hurricane Sandy and continue to provide seamless protection to homes and businesses across Brick, NJ and surrounding areas.
Exterior window shutters and solar screens not only protect your home and windows from wind-blown debris and hard rain, but also guard against vandalism, sun exposure, prying eyes and pests. In addition to state-of-the-art, remote-activated storm guards, we also design and install outdoor solar screens, insect screens and privacy screens to make your gazebos, decks, porches and other areas more enjoyable. Control any screen remotely so you can guard yourself from the sun, weather and insects when you need it, or enjoy the view when you don't.
Take a closer look at our wide variety of storm shutters, solar screens, privacy screens and more in our gallery. You can also see examples on our video page! For more information and to receive a quote for your design, contact us today.
Security and Storm Shutters
Hurricane Shutters come in all shapes and sizes. Alutech United has developed a new version of the Hurricane Roll Shutter, called Barracuda. Alutech's new Barracuda Shutter System will give you code compliant hurricane protection in small housings.
In addition, the End Retention System eliminates the need for stormbars. Years of engineering and testing went into one of the most advanced Roll Shutters for hurricane protection on the market.
The patented technology, provides a smooth, quiet operation, very small housing sizes combined with all the hurricane protection you needs.
The Barracuda meets and exceeds the toughest standards: TDI, IBC/FBC, and Dade County.
Exterior Rolling Solar Screen – Protection With a View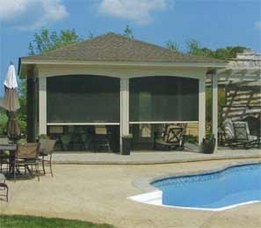 Enjoy protection from the sun's harmful rays and keep out pesky insects with Zip Tex motorized roll up screens. Spanning up to 19 ft. wide and 16 ft, tall, virtually any opening can be accommodated with Zip Tex.
Any type of establishment can benefit from our residential, commercial and recessed applications. Extruded aluminum components and stainless steel fasteners ensure receiving the highest quality product. Insect, solar and privacy mesh along with a variety of popular colors make it easy to offer motorized units that are customized to fit all needs. The Zip Tex screen rolls into a small, virtually unnoticeable housing when not in use and simply rolls down when you need protection.
Insect Screen:
Insect screen offers the ultimate in insect protection, while at the same time stopping up to 65% of the sun's heat and glare. This fabric improves daytime privacy and offers excellent outward visibility, yet openness of the 20×30 mesh is small enough to keep out tiny insects.
Solar Screen:
Solar Mesh is a unique woven mesh that can block 75-90% of the sun's hot rays before they enter your windows, while also performing as an insect screen. This fabrics primary purpose is to reduce solar heat gain in the summer and reduce heat loss in the winter.
Privacy Screen:
Privacy Mesh is the ultimate in shading protection by blocking up to 90% of the sun's heat and glare before it penetrates windows and doors. This fabric improves daytime privacy while offering outward visibility. Ideal for extremely hot windows, doors and porches.
Turns any outside area into a usable room: garages, patios, balconies, porches, gazebos, car ports or entry ways; also provides shading over windows
Provides shading from the sun's harmful UV rays and reduces television screen and computer monitor glare
Keeps out pesky insects
Reduces air conditioning expenses by as much as 60%
Enhances privacy but does not obstruct your view
Sizes available 3 ft. to 19 ft. wide, up to 16 ft. tall
Remote controlled for effortless operation
Commercial, residential and recessed designs
Variety of screens types and colors
Hurricane and Security Shutters